Appliance Repair Books
Below are listed multiple appliance repair books that can help you to repair your own applaince.


Troubleshooting and Repairing Major Appliances by Eric Kleinert
This handy, on-the-job reference covers all the information practicing electricians and apprentices need to know to pass the Occupational Competency Examination for Appliance Repair. It also serves as a complete troubleshooting guide for homeowners who want to save money by learning how to repair their own appliances. Emphasizing safety throughout, Eric Kleinert begins with the basics, explaining how to read wiring diagrams and use test equipment, including volt-Ohm-amp meters and Wattmeters. He then provides step-by-step instructions and plenty of diagrams and charts that show exactly how to pinpoint and repair problems in everything from dishwashers, hot water heaters, and garbage disposals to refrigerators, ovens, and laundry appliances.




Major Appliances: Operation, Maintenance, Troubleshooting And Repair by Billy C. Langley
This book provides a basic thorough and practical study of major appliances used in most residences. The fundamentals necessary for successful servicing of major appliances are covered first, along with chapters on safety, the service occupation, customer relations, tools and instruments, service techniques, installation, basic electricity and electronics, proper lubrication procedures, refrigeration principles, air control, water chemistry, and combustion.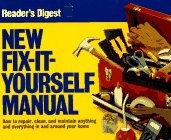 New Fix-It-Yourself Manual by Reader's Digest
The indispensable bible for keeping a home in tip-top shape, it is the time- and money-saver every homeowner needs. It functions as a repair manual, an evaluation guide, a compendium of household hints, an emergency reference, and a homeowner's encyclopedia. Over 3,000 illustrations.




1001 Do-It-Yourself Hints & Tips : Tricks, Shortcuts, How-Tos, and Other Great Ideas for Inside, Outside, and All Around Your House by Reader's Digest
Now you can work like a pro-and accomplish all your maintenance, repair, and decorating projects more easily, at less cost, and with better results. Takes you through every task you'll ever face as a homeowner, presenting handy hints and savvy shortcuts.




The Family Handyman Helpful Hints: Quick and Easy Solutions Timesaving Tips Tricks of the Trade by Reader's Digest
The biggest, best organized, and most complete collection of money-saving, time-saving home and workshop hints and tips ever assembled. More than 2,000 ingenious, truly useful tips and tricks for the home handyman.




If It's Broke, Fix It by Dan and Judy Ramsey
A complete single-volume reference on how to fix just about everything in and around the house. With more than 400 pages and 300 illustrations, this comprehensive book covers the most common quick fixes to just about everything imaginable-and does so with easy-to-follow instructions. From cell phones to zippers to plumbing to chainsaws and everything in between, if there's a quick-fix to be made, it's covered in this book.




Dare to Repair : A Do-it-Herself Guide to Fixing (Almost) Anything in the Home by Julie Sussman
And it's not your husband's, your brother's, your boyfriend's, or the guy's next door. Dare to Repair is a do-it-herself book for every woman who would rather be self-reliant than rely on a super or contractor. No matter the depth of your pockets or the size of your home, a toilet will get clogged, a circuit breaker will trip, and a smoke detector will stop working. It's up to you how you'll deal with them -- live in denial, pay the piper, or get real and do it yourself.




Home Maintenance for Dummies by James and Morris Carey
Having a house can be a hassle. But thanks to timesaving, trouble-preventing strategies from these nationally recognized experts, now anyone can keep his or her palace in regal repair and have plenty of time left over for the fox hunts. This friendly book covers everything from plumbing to painting, with handy calendars to ensure nothing falls through the cracks -- including the cracks!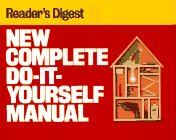 New Complete Do-It-Yourself Manual by Reader's Digest
The most complete and authoritative home repair manual ever published, this book is the yard-stick by which all other books on do-it-yourself are measured. The definitive guide to home repair, maintenance, and improvement. Over 4,000 illustrations.




The Complete Photo Guide To Home Repair: with 350 Projects and 2300 Photos (Black & Decker) by
The Complete Photo Guide to Home Repair is one of the most up-to-date, complete, and useful guide to home repair a homeowner can have. With more than 350 projects and 2500 photos, virtually every home repair challenge is covered. New in this major revision to an all-time classic best-seller are important chapters on: choosing and using hand and power tools; diagnosing and correcting home safety and health problems; and creating and maintaining a home workshop.